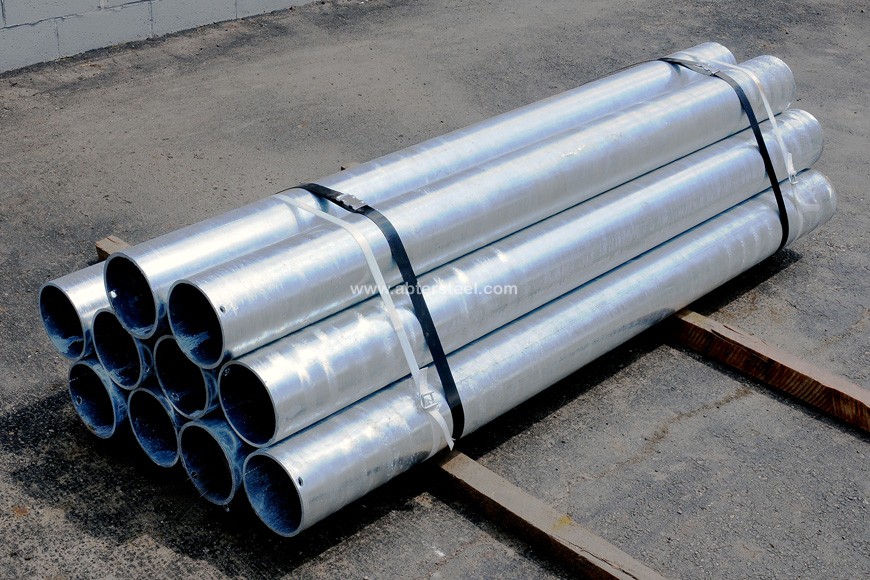 Galvanized pipe is coated with zinc and metal. This makes them more durable than
older pipes which were crafted from steel or iron. These pipes also have added protection,
because the coating of zinc prevents issues with
corrosion
.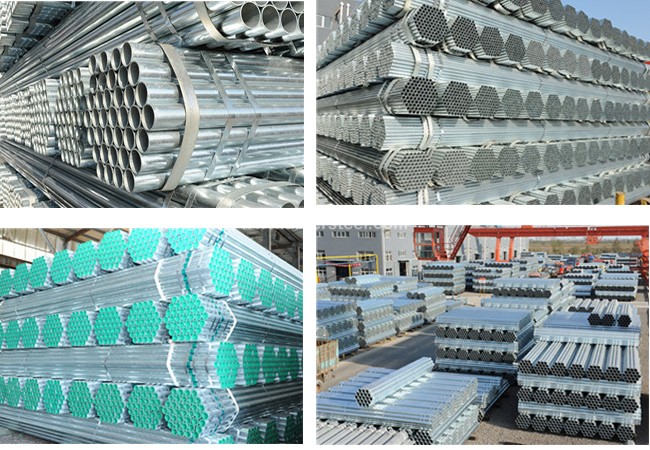 Product Name
BS1387 ASTM A500 ASTM A53 En 39 BS En 1139 hot dipped Galvanized steel Pipe tube for greenhouse &  railings & fence
post & water supply & natural gas
Size
OD: 21.3mm ~ 610mm
Thickness: 1.0mm ~ 24mm
Length: 1m – 12m
Standard
GB/T-3091-2008, ASTM A53, BS1139, BS1387, BS EN39 etc
Grade
China Grade: Q215,Q235,Q345
International Grade: ASTM A53,ASTM A500, API 5L, BS1139 Type 4 etc.
Packing and Shipping
Small Pipe: Packed in Bundles
Big Pipe: Packed in Bulk
Pipe length more than 12M: Bulk Vessel
Certificate
ISO9001:2008, SGS
Inspection
With chemical composition and Mechanical Properties Analysis;
Dimensional and Visual inspection, also with nondestructive inspection.
Delivery time
1~35 days based on different quantity and different size.
Payment Term
30% T/T as deposit, Balance against copy of B/L OR L/C at sight
Pipe / Tube Ends Treatment  
Plain Ends , Beveled Ends, Theared Ends, Round Grooveed Ends, Threaded Ends one end with
coupling and one end with plastic caps, or accorsing to customers' requirement.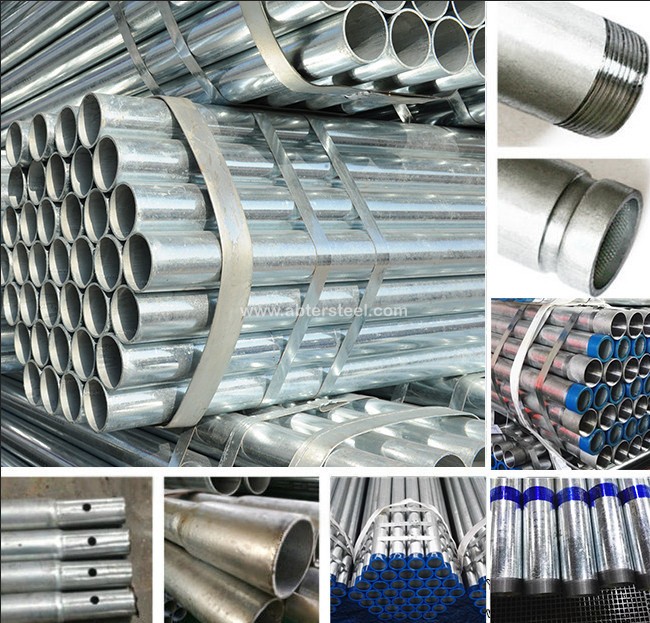 Building protection
Cars aren't just colliding into people. Crashes into structures and buildings happen at a high rate. According to researchers at the Storefront Safety Council, more than 60 vehicles crash into buildings every day, leading to 3,600 injuries per year. Further injuries can be caused indirectly from the damage to the building itself, such as collapsing buildings, trapping people under building rubble and in vehicles, and fires from damaged electrical wires and equipment. In addition to safety issues, vehicle crash damage can cause temporary or permanent closures, as well as financial or insurance complications. Security bollards create a physical and visual barrier to ensure vehicles keep away from buildings and other sensitive areas.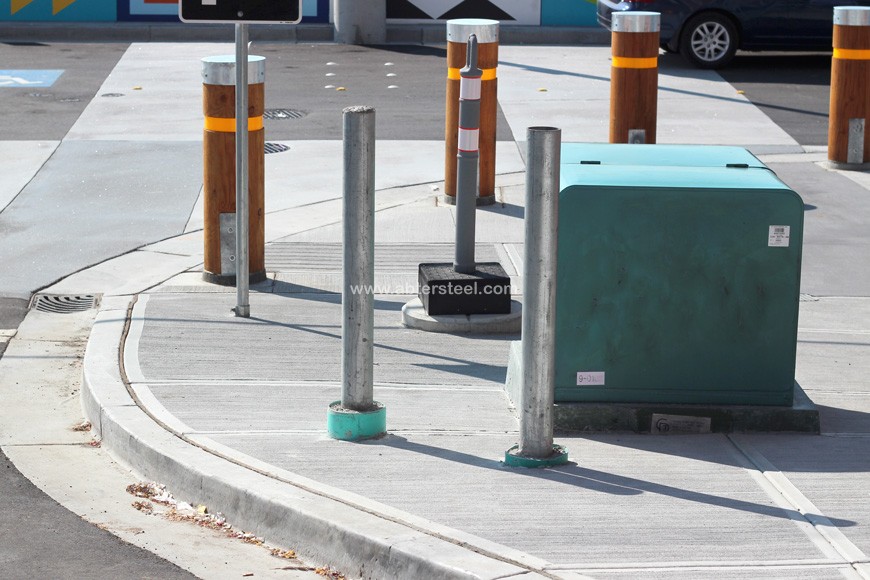 Galvanized Steel pipe bollards is used in outdoor and indoor applications due to its anti rusting components.
The zinc coating slows the process of corrosion and can make the pipe last for decades (in the right environment). This makes it ideal for marine applications and for transporting hot and cold water alike. Galvanized Steel pipe bollards isn't perfect for every type of job though. There are disadvantages
to using galvanized pipe with gas lines and are not typically used in underground applications.
Size:
Round pipe: 1/2″ – 20″
Spiral pipe: diameter 219-1420mm
Wall Thickness: 1.4-14mm
Length: 2-12m according to customers' requirements
Zinc coating: 275-350g/m² standard
Type: welded pipe/seamless pipe/cold drawn seamless tube
Technique: electronic resistance welded (ERW)
Electronic fusion welded (EFW)
Double submerged arc welded (DSAW)
Galvanized Steel pipe bollards have a longevity, are cost effective, and are low maintenance. They can be inspected with a trained eye and are easily assembled. For all your Galvanized Steel pipe bollards needs, choose a professional who has the experience you need.
Parking lot safety
Parking lots are another common location of car crashes. With drivers focused on finding empty parking stalls, cars backing in and out and turning spontaneously, and pedestrians walking in and around cars, accidents, though usually not severe, are frequent. Security bollards can protect pedestrian areas from intruding cars without limiting foot traffic.
Warehouses
Vehicles aren't only outdoors. Warehouses often use forklifts to move shipments in tight spaces, and even when moving at slow speeds, forklift collisions can cause serious injuries. Warehouse pipe bollards clearly define pedestrian areas in a working environment, and create a barrier around sensitive structures such as shelf corners and loading docks.
Why choose steel pipe bollards
Steel posts are one of the simplest, most cost-effective ways to offer protection for buildings and pedestrians from vehicle collisions, as both a physical and visual barrier. Steel bollards can be installed in any surface, indoors or outdoors, to prevent entry from errant vehicles, secure vulnerable areas, and protect site assets.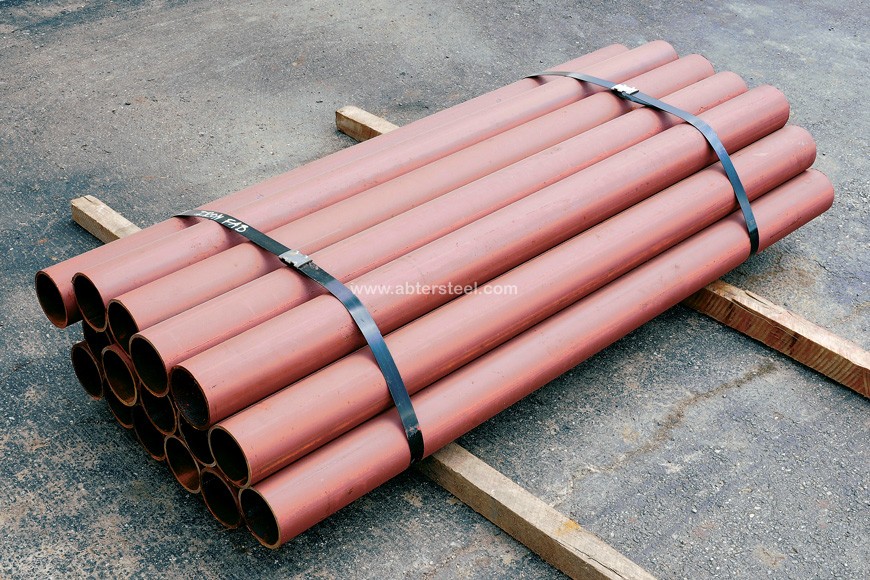 Steel pipe bollards are made from structural grade steel, which is reinforced with and embedded in concrete for added strength. Made from ASTM 500 B structural grade steel, pipe bollards are best installed in new concrete surfaces, but can also be installed using concrete forms or in existing concrete, though they will provide less strength. Steel pipe posts can be cut to custom lengths, and are available in a range of colors to add visibility or complement the building's design or branding.
Bollard covers for design appeal
While they provide security and traffic control functionality, steel pipe bollards can be unsightly. Without powder coating or covers, metal posts are also vulnerable to rusting, especially in rainy areas and near the ocean. While paint provides some protection, it requires yearly reapplication. If a bollard post is left untreated, temperature and moisture can cause rust and weaken the bollard over time.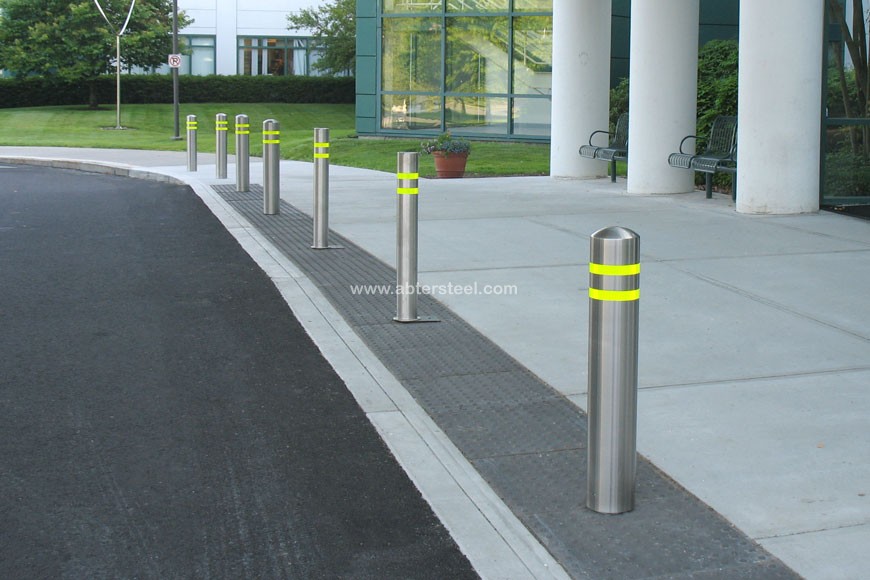 To improve both aesthetics and durability, plastic, stainless steel, and decorative metal bollard covers are available. Bollard covers, or sleeves, provide easy-to-install, cost-effective protection for steel pipe bollards, by covering the outside of the post with a more durable material, and preventing exposure to rain, snow, ice, and deicing salts or fluids. Decorative bollard covers come in a wide variety of designs, enhancing a landscape's visual appeal instead of detracting from it. Bollard sleeves can also increase the visibility of steel pipe posts—some covers can be equipped with reflective strips, further helping drivers notice the bollard.
From high-traffic parking lots, to vulnerable indoor areas, steel pipe bollards work as a safeguard for site users and assets. In locations where accidental collisions may occur, bollards can provide peace of mind for site owners and pedestrians alike.
Note: Several installation factors will affect the protective capacity of steel pipe bollards. Bollard dimensions, installation materials and surrounding site conditions affect the amount of force a bollard can withstand. Consult an engineer to identify suitability and installation requirements for specific site applications.