What is the FBE, 2PE, 3LPE, Anti-Corrosion Coating Steel Pipe
Anti-corrosion coating is an essential process in the construction of steel pipes. These coatings serve as a barrier layer that protects the steel from the corrosive effects of water, soil, and other environmental factors, significantly enhancing the pipe's durability and lifespan. Three commonly used anti-corrosion coatings are FBE (Fusion Bonded Epoxy), 2PE (Two-layer Polyethylene), and 3LPE (Three-layer Polyethylene).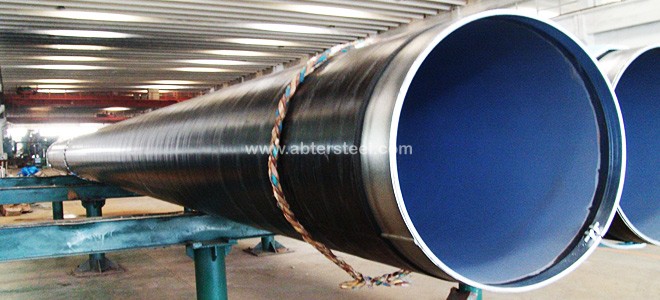 1. FBE (Fusion Bonded Epoxy) Coating
FBE is a high-performance anti-corrosion coating that provides excellent protection for small and large diameter pipelines with moderate operating temperatures. Its key characteristics include:
Good adhesion to steel and resistance to cathodic disbondment
High electrical resistance and low permeability to water and water vapor
Resistance to harmful effects of soil and different environments
The FBE layer in FBE coated pipes is thermosetting, meaning it's cured by heat.
2. 2PE (Two-layer Polyethylene) Coating
2PE anti-corrosion coating consists of two layers: The first layer (or the inner layer) is FBE, and the second layer (or the outer layer) is adhesive (AD) and a polyethylene (PE) layer. The 2PE anti-corrosion layer combines the excellent properties of FBE and the advantages of PE, including:
Excellent water resistance, flexibility, and high-temperature resistance
Strong resistance to impact and bending, making it highly suitable for environments with high soil stress
3. 3LPE (Three-layer Polyethylene) Coating
The 3LPE system is a multilayer coating composed of three functional components: a high-performance fusion-bonded epoxy (FBE), followed by a copolymer adhesive and an outer layer of polyethylene. The three layers combined provide excellent protection against corrosion and mechanical damage.
The first layer, FBE, provides excellent adhesion to the steel pipe
The second layer, the copolymer adhesive, acts as a link between the FBE and the PE layer
The third layer, PE, provides good resistance to mechanical damage and water absorption
3LPE provides excellent protection against extreme environmental conditions and aggressive substances.
These three coatings are widely used due to their excellent performance in preventing corrosion, extending the life of pipes, and reducing the potential for leaks and failures in the pipeline systems.
Details:
Coating
FEB, 2PE/3LPE, 3PP, HDPE, Cement Mortar lining
Coating Standard
DIN30670, CSA, Z245.21, CSA Z245.20, AS1518, AWWA C213
Process
LSAW: Longitudinal Submerge-arc Welded) UO(UOE),RB(RBE),JCO(JCOE)
DSAW: Double Submerged arc welded
SSAW:  Spiral Submerge arc welded
ERW:  Electric Resistance welded pipe
Seamless: Seamless
Ends
Plain ends, Beveled ends
Delivery
Depends on the order quantity, normal within 30 days
Payment
T/T, L/C, Western Union
Packing
Bundled, In Bulk, Plastic caps plugged, Waterproof paper wrapped etc.
Application
Oil pipeline, Natural gas industry, Refineries, Sewage treatment facilities, Water treatment applications, Electric power plants, Food handling industry, Waterworks pipelines etc
Tests of LSAW steel pipe
Chemical Component Analysis;
Mechanical Properties–Elongation; Yield Strength; Ultimate tensile strength;
Technical Properties–Flattening test; Bending test; Blow test; Impact test;
X-ray Test
Hydrostatic test
Sizes: 
| | |
| --- | --- |
| O.D. | 219mm -4064mm (8″ to 160″) |
| W.T. | 2.9mm-60mm |
| Length | SRL, DRL, Random length from 1M to 18M |
Standard & Grade:
| | |
| --- | --- |
| API 5L PLS1 & PLS2 | Gr.B, X42, X52, X60, X65, X70, X80,Q235B, Gr.C |
| GB/T9711 | L175, L210, L245, L290, L320, L360, L390, L415, L450, L4785, L555 |
| ASTM A252 | Gr.2, Gr.3 |
| ASTM A53 | Gr.A, Gr.B, Gr.C, Gr.D |
| EN10217 & EN10219 | S185, S235,S235JR, S235 G2H, S275, S275JR, S355JRH, S355J2H, St12, St13, St14, St33, St37, St44, ST52 |
| ISO 3183 | / |
| GB | Q195, Q215, Q235, Q275, Q295, Q345, 10#, 20#, 08F, 08, 08AL, 08F, 10F, 10, HG5, DF08 SPHC, M8 |
Part of detailed descriptions on coatings;
1) FBE–Fusion Bonded Epoxy Coating     
FBE Technical Parameter
Capability/Property
FBE
Minimum recommended handling and construction temperature
-30ºC
Maximum recommended operating temperature
110ºC
Bendability
Yes
2) 2PE/3PE anti-corrosive pipe–2/3 Layer Polyethylene coating
Two Layer Polyethylene coating
The first layer adhesive (AD)
The second layer of polyethylene (PE)
Three Layer Polyethylene coating
The first layer with epoxy powder (FBE> 100um)
The second layer with adhesive (AD), 170-250um
The third layer with polyethylene (PE) 2.5-3.7mm
Size: DN50-DN2200
| | | |
| --- | --- | --- |
| DN | Polyethylene | Polypropylene |
| ≤ 100 | 2.5mm | 1.8mm |
| >100 and ≤ 250 | 2.7mm | 2.0mm |
| >250 and ≤500 | 2.9mm | 2.2mm |
| >500 and ≤800 | 3.2mm | 2.5mm |
| >800 | 3.7mm | 2.5mm |