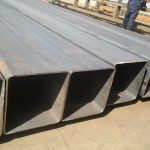 S355JR is a structural grade steel that is often used in the construction industry. It has excellent strength and weldability characteristics. The term "Hollow Section" refers to a variety of shapes of hollow structural sections, including rectangular and square shapes.
Thus, a S355JR Hollow Section Rectangular or Square Steel Pipe would be a hollow, square or rectangular sectioned pipe made out of S355JR grade steel.
Here are some key features of a typical S355JR Hollow Section Steel Pipe:
S355JR Hollow Section Rectangular/Square Steel Pipe
Material: S355JR grade steel, a structural steel grade that offers high yield and tensile strength. It's often used in structural applications such as bridges, buildings, and load-bearing structures.
Shape: Hollow, with a rectangular or square cross-section. These shapes are often used where strong resistance to torsion is required.
Size: Sizes can vary greatly depending on the application. Common sizes for the square pipes range from 20x20mm to 500x500mm, while the rectangular pipes might range from 40x20mm to 400x200mm.
Wall Thickness: This can also vary greatly, but common thicknesses might range from 1.5mm to 30mm.
Surface Treatment: Pipes can be treated in a variety of ways to protect against corrosion, improve appearance, or enhance mechanical properties. Common surface treatments include painting, galvanizing, or oiling.
Standard: Compliance to certain standards depending on the region such as EN 10219- S355JR in Europe, ASTM A500 in USA or IS 4923 in India.
Remember, the exact specifications will depend on the manufacturer and the intended use of the steel pipe.
| Property | Description |
| --- | --- |
| **Material** | S355JR grade steel |
| **Shape** | Hollow, rectangular or square |
| **Size** | Varies, commonly 20x20mm to 500x500mm (square), 40x20mm to 400x200mm (rectangular) |
| **Wall Thickness** | Varies, commonly 1.5mm to 30mm |
| **Surface Treatment** | Painting, galvanizing, oiling, etc. |
| **Standard** | Varies, e.g. EN 10219- S355JR, ASTM A500, IS 4923 |

Before purchasing any steel product, it's important to confirm that its specifications, including dimensions, grade, and treatment, meet the requirements of your specific application.
| | |
| --- | --- |
| Grade : |     S355JR Hollow Section Rectangular/Square Steel Pipe |
|     Number: |     1.0045 |
|     Classification: |     Non-alloy quality structural steel |
|     Standard: |     EN 10025-2: 2004 Hot rolled products of structural steels. Technical delivery conditions for non-alloy structural steels |
Chemical composition %   of grade   S355JR (1.0045):   EN 10025-2-2004
Nominal thickness =< 30(mm) CEV max = 0.45
| | | | | | | | |
| --- | --- | --- | --- | --- | --- | --- | --- |
| C | Si | Mn | P | S | N | Cu | CEV |
| max   0.24 | max   0.55 | max   1.6 | max   0.04 | max   0.04 | max   0.012 | max   0.55 | max   0.47 |
Mechanical properties of grade   S355JR (1.0045)
| | | | | |
| --- | --- | --- | --- | --- |
| Nominal thickness (mm): | to 3 | 3 – 100 | 100 – 150 | 150 – 250 |
| Rm – Tensile strength (MPa) Flat and long products | 510-680 | 470-630 | 450-600 | 450-600 |
| | | | | | | | | |
| --- | --- | --- | --- | --- | --- | --- | --- | --- |
| Nominal thickness (mm): | to 16 | 16 – 40 | 40 – 63 | 63 – 80 | 80 – 100 | 100 – 150 | 150 – 200 | 200 – 250 |
| ReH – Minimum yield strength (MPa) Flat and long products | 355 | 345 | 335 | 325 | 315 | 295 | 285 | 275 |
KV – Impact energy (J) longitud.,
-20°
27
0°
27
+20°
27
| | | | | | |
| --- | --- | --- | --- | --- | --- |
| Nominal thickness (mm): | to 1 | 1 – 1.5 | 1.5 – 2 | 2 – 2.5 | 2.5 – 3 |
| A – Min. elongation Lo = 80 mm (%) parallel, | 14 | 15 | 16 | 17 | 18 |
| | | | | | |
| --- | --- | --- | --- | --- | --- |
| Nominal thickness (mm): | 3 – 40 | 40 – 63 | 63 – 100 | 100 – 150 | 150 – 250 |
| A – Min. elongation Lo = 5,65 √ So (%) parallel, | 22 | 21 | 20 | 18 | 17 |