In the installation of 3PE anti-corrosion steel pipe In the early stage does not have the length of the plan, such as 3pe anti-corrosion pipe routine is 12 meters. But sometimes in some parts of the project need is 3 meters, this time need to 3pe anti-corrosion steel pipe cutting.
What is the  3pe anticorrosion pipe?
3PE anticorrosive pipe parent metal include seamless steel pipe, spiral steel pipe and straight seam steel pipe.Three layers structure of polyethylene (PE) anticorrosive coatings with good corrosion resistance, resistance to moisture permeability and mechanical properties, is widely used in the oil pipeline industry.
So how to cut 3PE anti-corrosion steel pipe? Many cutting methods. Relatively small thickness of the general use of shearing machine shearing method, smaller workpiece can be used grinding wheel cutting machine.
 1.Specification for 3PE anticorrosion welded steel pipe
Product Name
Epoxy

3PE anticorrosion welded steel pipe 

Size
OD
219-420 (mm)
Thickness
3.5-80  (mm)
Length
5-12  (m)
material

Q235 → Grade D,SS400,S235JR,S235JO,S235J2

Q345 → SS500,ST52

API Gr.B ASTM GR.A,GR.B,X42,X46,X52,etc

standard

GB/T 178-2005,JIS G 3466,GB/T3094-2000,GB/T6728-2002,ASTMA500,ANSI b36.10

surface
3PE,FPE corrosion,Black painted, With oiled
End treatment
Bevel End or Plain End
 
2.3PE welded steel pipe product detail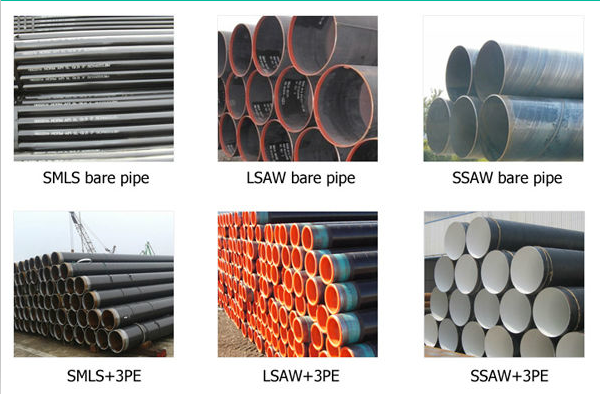 3.3PE welded steel pipe Process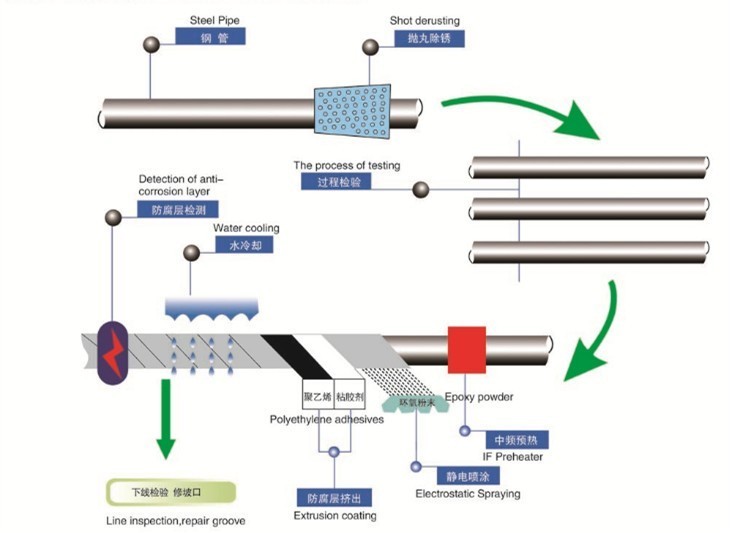 4.Welded steel pipe of 3PE Player structure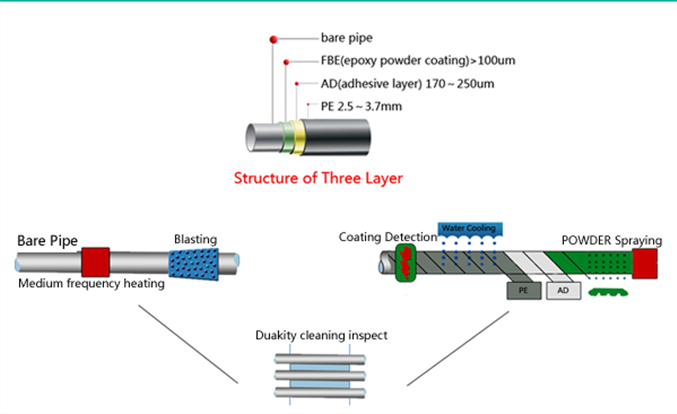 5.3PE welded steel pipe shipping
6.Usage for 3PE welded steel pipe
Must be the first material, thick plate commonly used cutting methods are plasma arc cutting, laser cutting, oxygen gas flame cutting, carbon arc air planing, water jet melting pole arc cutting method and the latest water jet cutting method. 3PE corrosion-resistant steel tubes with relatively small thickness are usually cut by shearing machine in the past more than 20 years, the rapid development of China's iron and steel industry, thanks to the urbanization and industrialization of our country, now, the new concept of urbanization, the direction of urbanization has been established, no doubt for the future of steel industry to create unlimited space for development,The steel industry has a long way to go in the future of the new industrialization and the urbanization. There are many ways and tools to look at individual choices. Personal skills are also one aspect.
In the same time as the 3PE anti-corrosion steel pipe Cutting, we use a general cutting machine can also be carried out. In order to ensure that the pipeline processing is not deformed the most important thing is to choose to meet your welding requirements of the cutting machine, cutting machine is not the same, cutting the way will not be the same, there are other ways.
Now commonly used in the domestic mechanical cutting, flame cutting and water cutting these several ways, these three ways to ensure that the pipeline does not deform. 1. Mechanical cutting using external installation and internal installation of two kinds, and its use of lathe knife processing principle of cutting and groove processing, single machine span large, machinable thickness, waste less, non-polluting, processing process does not produce high temperature, does not affect the pipeline material, is conducive to welding.
Water cutting through high-pressure pump and emery together to process the pipeline, its incision clean, processing span is large, but its efficiency is low, processing thickness limited factors.
2. Oxygen acetylene flame cutting, by regulating oxygen valves and acetylene valves, can change the mixture of oxygen and acetylene to get three different flames: Neutral flame, oxidizing and carbonized flame. 3. Ion cutting, plasma cutting with different working gas can cut all kinds of oxygen cutting hard to cut metal, especially for non-ferrous metals (stainless steel, aluminum, copper, titanium, nickel) cutting effect better; The main advantage is that the cutting thickness of the metal, plasma cutting speed, especially in cutting ordinary carbon steel sheet, the speed can reach the oxygen cutting method 5~6 times, the cutting surface is smooth, the heat deformation is small, the heat influence area is few. These methods are also commonly used in pipe cutting.
Pipe must choose the appropriate cutting tools, otherwise it is easy to cause damage to the pipe waste.