The aging of steel tubes has prompted the birth of anticorrosive steel pipes:
As carbon steel pipes age, they become subject to wear and tear. They develop weak spots, which can result in small leaks throughout the system. They can also gradually become unsafe, and eventually a failure may occur, causing flooding and water damage over a large area. This can happen both throughout a home, as well as throughout commercial, industrial, and high rise buildings.
When this type of damage occurs, it can be expensive, time-consuming, and disruptive to fix. carbon steel Pipes must be dug up and replaced. When that occurs, the entire system becomes at-risk for new breakages and weak spots, leading to further failures and leaks that must then be addressed.
In potable water lines, epoxy is blown into cleaned carbon steel pipes, forming a safe, evenly coated barrier between metal pipe walls and water.
The epoxy lining provides a durable and long lasting solution to leaks, broken carbon steel pipe, slow drains, and blockages. The new lining increases water flow rate and water quality while it prevents carbon pipe erosion, water damage from leaks and mold growth. The epoxy keeps out heavy metals and corrosion that normally leaches into drinking water from metal steel pipes.
At ABTER STEEL, we understand that you do not want your plumbing to disrupt your life. That is why we offer carbon steel pipeline coating solutions that are safe, effective, and affordable for restoring your plumbing system. Our solutions are applied by skilled carbon steel pipe liners throughout the WORD area.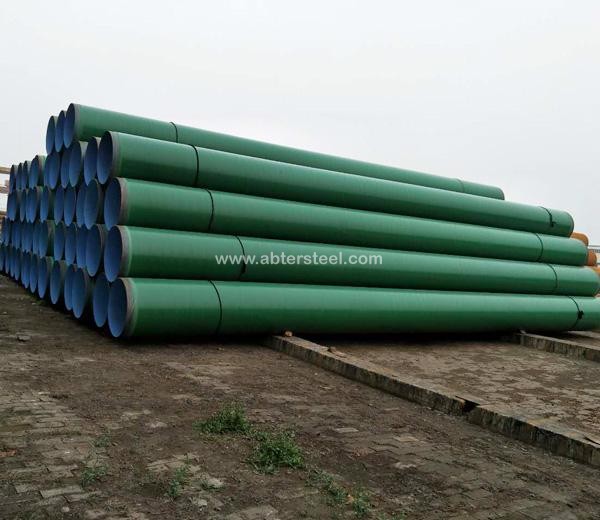 What is the Pipe Coating anticorrosive Process?
An effective epoxy coating process begins with walk through to determine the problem areas and pipe configuration. A plan is implemented to minimize disruption and afford the most efficient timeline for work completion. The piping system is also inspected for integrity and spot repairs from excessively worn joints and fittings. A temporary bypass water pipe may be installed.
After pipe mapping and spotchecking is completed, pipes are dried with heated, compressed air. A safe abrading agent is blown through the pipe system, removing rust and corrosion by-products that are collected in a holding unit for disposal. Compressed air is applied once again to remove fine particles.
The epoxy coating is applied to the pipes using conditioned air to uniformly distribute the epoxy throughout the pipe segment.
Optimal internal pipe surface temperature is created prior to epoxy coating. Another air pressure leak test is performed. Conditioned air is then introduced into the pipe to uniformly distribute the epoxy coating throughout the pipe segment. Following the coating application, continuous controlled air flows through the piping to facilitate epoxy curing.
Following the coating application, continuous controlled air flows through the pipes during the epoxy curing process.
When the epoxy cures, valves and couplings are refitted and a final leak test confirms the integrity of the line. In addition, water quality, volume and flow tests confirm the functionality of the system.
Pipe lining and epoxy coating provides a non-disruptive, time efficient and cost effective solution in comparison to traditional pipe replacement. Used for both non-pressurized pipes such as sewer and vent stacks and pressurized pipe systems such as potable and fire suppression, pipe lining and epoxy coating is not just a band aid fix but a long term solution.
After the epoxy coating cures, valves and couplings are refitted. A final leak test and inspection confirms lining integrity. Water quality, volume, and flow tests confirm system functionality.
Standard
API 5L
Grade
PSL-1
API 5L – Gr.B/X42/X46/X52/X60/X70 etc.
( Material)
PSL-2
ISO3183 – L245/L290/L320/L360/L415/L485 etc.
Minimum Order Quantity
1 Ton
    Outside Diameter Ranges
PSL-1
0.405-80(in) or 10.3mm-2032mm
PSL-2
4 1/2 -80(in) or 114.3mm-2032mm
          Wall Thickness Ranges
SCH10~SCH160  Or  STD,XS,XXS  Or  1.73mm~59.54mm
Length
For 20Ft Container
4.8m-5.8m
(negotiable)
For 40Ft Container
4.8m-12m
      Most common choice
6m, 12m
Type
Welded
ERW,LSAW/SSAW
Seamless
Cold Drawn,Hot Finished,Hot Expanded
Cap (negotiable)
Pipe size should under DN600
Pipe End
Plain end
All sizes
Bevel end
Pipe size above DN50, and the thickness should greater than 3.2mm
Our advantages
·Diverse products(Steel pipes, pipe fittings, other fittings)
·Any third party inspection is accepted by we company.
·Quick response in quotation,delivery,after-service.
·Focus on pipe & tube solution for project application.
External Coating
Coating type
Coating Standard
3LPE/3LPP
DIN30670-1991,CAN/CSA Z245,21-2010,ISO21809-1-2009 SY/T 0413-2002,GB/T23257-2009
2LPE/2LPP
SY/T 0315-2002,GB/T23257-2009,ISO21809-1-2009
FBE(Fusion-bond epoxy)
SY/T 0315-2005,AWWA C213-2001,CAN/CSAZ245.20-2010,ISO218909-2-2007,API RP5L9-2001
Bitumen coating

Enamel &Tape hot-applied

BS534-1990,AWWA203-2002,AWWA214-2000
Liquid epoxy coating
AWWWA C210-2007
Polyurethane insulated coating
SY/T0415-1996,CJ/T114-2000.EN253-1994
Internal Coating
Liquid Epoxy Coating
AWWAC210-2007
FBE
AWWAC213-2001
Cement Mortar Lining
BS534-1990,AWWA C205-2001
Bitumen Coating
BS534-1990