Carbon Steel Flange: ASTM A 105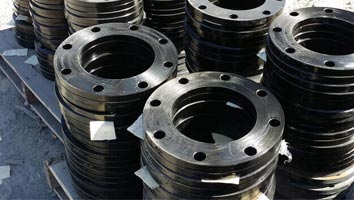 Stainless Steel Flange: ASTM A 182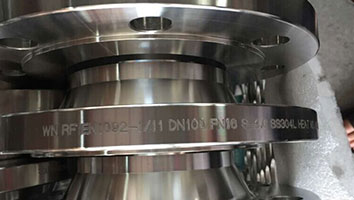 Size: 1/2"-60" (DN15-DN3000)
Pressure class: Class150-Class2500
Facing: RF/ FM/ M/ T G/ RF / FF / RTJ
ASTM A105 & A182 Material Can Produce Flanges of Types
ASTM A105 & A182 Material Can Produce Flanges : Threaded Flanges,Welding Neck Flanges ,Lap Joint Flanges ,Blind Flanges,Slip-on Flanges,Socket Welding Flanges,Orifice Flanges,Wind Power Flanges,Square Flanges………..
BLIND FLANGES
Blind flanges are typically provided with a raised face, flat face, or RTJ facing. When a raised face is necessary for blind flanges, the standard height is 1/16″ for blind flanges under 400#. For blind flanges of 400# and up, the standard blind flange raised face height is 1/4″.
Material: Carbon, Alloy and Stainless Steel
Standards: ASTM A105, ASTM A182
Sizes: 1/2" to 24", Customized up to 48"
Thickness: Schedule 10(S) to SCH 160
Pressure Ratings: Class 150 to 2500
Face Type: RF, RTJ
SLIP-ON FLANGES
Slip on pipe flanges are typically provided with a raised or flat face. When a raised face is necessary for slip on pipe flanges, the standard height is 1/16″ for slip on pipe flanges under 400#. For slip on pipe flanges of 400# and up, the standard slip on pipe flange raised face height is 1/4″.
Standard: ASTM A105, ASTM A182
Material: Carbon Steel, Alloy Steel, Stainless Steel
Size: 1/2" to 24", customized up to 60"
Pressure Ratings: Class 150 to Class 2500
Face Type: RF, RTJ
Weld Neck Flanges
Weld Neck Flange also known as a tapered hub flange or high-hub flange. Weld neck flange (WN flange) has a neck that can move the pipe tension, thereby reducing the pressure gathered in the bottom of the flange. It is compatible with the pipelines which operate at high or low temperatures and withstand high pressure. Welding Neck Flanges are effortlessly identifiable at the long tapered end, which slowly passes through the wall thickness from a pipe or fitting. The long tapered hub provides significant shielding for use in multiple applications involving high pressure, sub-zero and/or high temperatures. A weld neck flange comprises of a circular fitting with a protruding edge around the circumference. Weld Neck Flange has been used successfully at pressures up to 5,000 psi.
Socket Weld Flanges
The Socket weld flanges are only connected on the outside by one fillet weld, and are often not advised for critical services. These are mostly used for the small-bore lines. Their static strength is equivalent to Slip On flanges, but their fatigue strength is 50 percent higher than double-welded Slip On flanges. For this type of flanges, the thickness of the connecting pipe should be defined to ensure proper bore length. Before welding, a gap must be formed in the socket weld flange between the flange or fit and the pipe. The objective of a Socket Weld's bottom clearance is generally to minimize the residual pressure at the weld root that could occur during weld metal solidification. The socket weld flange's drawback is the right space, which must be made. The crack between the pipe and the flange can cause corrosion problems by corrosive products, and mostly in stainless steel pipe systems. This flange is not allowed in some processes. Also for this flange, that principle must always be welded first by a pipe and then simply by a fitting.
Lap Joint Flanges
Lap joint flanges are used with stub ends when the pipe is made of expensive material. For e.g., a carbon steel flange can be added to the stainless steel pipe system because the flange will not come into contact with the substance in the pipe. The stub ends will be butt-welded to the pipe and the flanges will remain loose. The inner radius of these flanges is beveled edge to clear the stub end radius. Lap joint flanges are almost similar to the Slip On flange, except for the radius at the intersection of the flange face and the bore to accommodate the flanged portion of the Stub End. Their ability to hold pressure is little, if any, stronger than that of Slip On flanges, and the fatigue life of the assembly is only one-tenth that of the Weld Neck flanges. Lap joint flange is therefore used in low-pressure and non-critical applications.
Reducing Flanges
Reducing flanges is designed for when the size of the pipe changes. The flange (dimensions) predominantly matching the larger pipe size (NPT) but having a smaller bore matching the smaller pipe size (NPT). These flanges generally come in neck flanges that are blind, slip-on, threaded, and weld. They are available in all pressure classes and offer an excellent alternative to connecting two different pipe sizes. This type of flange should not be used if an unexpected change, such as at a pump, would cause unnecessary turbulence.
Designed for use in piping system of changing diameters. A reduction flange consists of a one-specified diameter flange with a separate and smaller diameter bore. The flange will have measurements of the greater pipe size except for the bore and hub dimensions. Reducing flanges are attached by welding, gluing or clamping flanges of the same size supplied with different connecting pieces.
Threaded Flanges
Threaded flanges look nearly identical to Slip-On flanges but the key difference is that the threaded flange has been bored out to match the inside diameter of a particular pipe. Threaded flange is a type of flange that has taper pipe threads in its bore conforming to ASME B1.20.1 and can be used in piping systems where welding flange onto the pipe is not possible, such as highly explosive areas where welding can develop potential risk. The threaded flange is fixed onto a pipe that has additional threads to the taper pipe Galvanized and cast-iron piping is commonly used with threaded flanges. In very high pressure systems and for small diameters, threaded flanges can be used and their main benefit is that they can be installed without welding.
Long Neck Weld Flanges
In high pressure and high (or fluctuating) temperature situations, primarily in the oil and gas industry the long welded neck flanges (often abbreviated to LWN) are used. The long neck guides the pipe into the flange itself and offers reinforcement that is not possible with a standard welded neck flange. This reinforcement is quite essential for the safety of industrial, commercial and even residential high pressure systems. Unlike many other types of flanges, Long Weld Necks have no schedule bores. Typically, long welded neck flanges are made with square cuts to replace the pipe, and not to be welded to the pipe.
The long weld-neck flange is generally the anchors for water-mains or gas sources being pumped into a larger network of pipes, like those in a factory or an apartment building.
Orifice Flanges
Orifice Flanges are used with orifice meters for the purpose of measuring the flow rate of either liquids or gases in the respective pipeline. Pairs of pressure "Tappings", mostly on 2 sides, directly opposite each other, are machined into the orifice flange. Orifice Flange Unions are designed & manufactured to American Gas Association (AGA), ASME, and International Society of Automation (ISA) recommendations. Orifice Flange are available in wide array of the following types: Raised Face weld neck orifice flanges, Raised Face slip-on orifice flange, Ring-Type joint weld neck orifice flanges, Corner tap orifice flanges.
Screwed Flanges
Screwed flange are also known as a Threaded Flange, and it is having a thread inside the flange bore which fits on the pipe with matching male thread on the pipe and these flanges are mostly used in utility services such as air and water. Screwed flange is often used for requirements on small diameter, high pressure. Screwed flanges with a hub have issued requirements ranging from 1/2′′ to 24′′. Pressure class: Class 150 to Class 2,500, PN 2.5 to PN 250 and Facing: RF / RTJ
Screwed flanges are threaded in a bore that matches the pipe's external thread. Screwed flanges are used with external threaded pipes. The advantage of these flanges is that they can be mounted without welding.
Plate Flanges
Often known as Flat flanges, the Plate Flange has a gasket surface in the same plane as the face of the bolting circle. It is also called flat-faced flange. Applications using flat face flanges are often those in which a casting is made of the mating flange or flanged fitting. Flat face flanges are used when the counter-flanges are flat face. This condition happens primarily when connected to Cast Iron equipment, valves and specialties. ASME B31.1 states that when connecting flat face cast iron flanges to carbon steel flanges, the raised face of the carbon steel flange must be removed and a full face gasket is needed.
Flange Facing Type & Finish:
Flat Face
In the same plane, the Flat Face flange has a gasket surface as the face of the bolting circle. Applications using flat facial flanges are often those in which casting is made of the mating flange or flanged fitting. A flat steel flange is quoted as a flange which is machined flat and does not have a ridge-like elevated face or ring type joint flange. The loose flat flange flat surface allows full contact between the gasket and the entire matting surface.
Flat face flanges should never be bolted onto an elevated face flange. ASME B31.1 states that the elevated face on the carbon steel flange must be removed when connecting flat face cast iron flanges to carbon steel flanges and that a full face gasket is required. The flange face form refers to all applications in which cast iron and other brittle materials are used to produce equipment and valves. For "Flat Face" flanges only Full Face Gaskets are to be used. This ensures that the two mating flanges are in full and equal contact.
Raised Face Flanges
The Raised Face flange is the most common type used in process plant applications, and can be easily identified. It is called an uplifted face because the surfaces of the gasket are raised above the face of the bolting circle. For all forged steel flanges like machinery and valves, this form of flange mask is commonly used. A wide combination of gasket designs can be used in the Raised face flanges. These combinations can also include Flat ring sheets and spiral wound and double jacketed type's metallic components.
The Raised Face Flanges are used to concentrate more pressure on a smaller area of the gasket and thus increase the joint's pressure containment capability. The Bolt holes are found in the outer ring region for those flanges. The "Move" adjustment between the heights of the two rings helps greater force to be applied to the gasket region, thereby creating a stronger seal when a gasket is attached and the bolts are mounted and torqued. Based on the pressure class, the flange face is either 1/16″ or 1/4″ ANSI 300 and under have a 1/16″ face raised, and ANSI 400 and higher have a 1/4″ face raised.
Ring joint flanges (RTJ)
Ring joint flanges (RTJ) have grooves which cut the steel ring gaskets into their faces. When bent bolts push in the grooves the gasket between the flanges, the flanges close (or coin) the gasket and create intimate contact within the grooves, creating a metal to metal bond. Usually the Ring Style Joint flanges are used in systems over 427 ° C with extreme pressure and high temperature. An RTJ flange with a ring groove machined into it may have an elevated face. The face raised does not act as any component of the means of sealing. The elevated faces of the attached and tightened flanges may touch one another for RTJ flanges which seal with ring gaskets.For this to occur, the ring joint gasket material must be weaker (more ductile) than the flange material. The strained gasket will not be able to withstand additional load in this case beyond the tension of the screw, vibration and motion cannot further crack the gasket and reduce the connection voltage. The R type with an octagonal portion is the most common RTJ gasket, as it guarantees an extremely strong seal. Nonetheless, a "simple groove" style recognizes that both RTJ gaskets have an octagonal or oval portion.
Groove & Tongue Flanges
The Groove and Tongue flanges have to suit the Tongue and Groove ears. One side of a flange has a raised ring (Tongue) machined onto the face of the flange while the mating flange has a corresponding depression (Groove) machined in its nose. Both large and small types of tongue-and-groove facings are standardized. These vary from male-and-female in that the tongue-and-groove internal diameters do not reach into the base of the flange, thereby holding the gasket on its inner and outer diameter. These are commonly found on Valve Bonnets and on pump coverings.
Tongue-and-groove joints also have a benefit in that they are self-aligned and serve as an elastic buffer. The scarf joint holds the loading point in line with the joint and does not require an intensive machining process. Specific flange faces like the RTJ, T and G, and F and M are not to be bolted. This is because the touch surfaces do not overlap and there is no gasket which has one type on one hand and another type on the other. Groove & Tongue flanges are used in low pressure, non-critical applications, to attach other Groove & Tongue components.
Male & Female Flanges
Male & Female Flanges are a kind of flange that wants to fit one another. One flange face in these variations has a region which stretches beyond the usual flange face. This flange is named The Man. The mating flange or the other flange, on the other side, will have a similar depression machined into its nose. This mating flange is called the Woman flange
The flanges must be aligned with this form too. Each facial flange has a region that stretches beyond the normal face of the flange (Male). The other flange or mating flange has a corresponding depression (Female) machined into the face of it.
The female faces are supposed to be 3/16-inch long, the male face are supposed to be 1/4-inch wide and each end flat. The female face's exterior diameter serves to find and maintain the gauze. There are in fact 2 versions; the Medium M&F Flanges and the Wide M&F Flanges.
Male and female flanges have improved sealing abilities, more reliable positioning and specific compression of sealing material, use of other, more effective sealing material and advanced sealing material (O-rings).