Water Transmission Systems: A Comparative Study of Ductile Iron vs Galvanized Steel Pipes
Water, the lifeblood of our ecosystem, necessitates an efficacious and reliable transportation system. Among the diverse options available, Ductile Iron Pipes (DIP) and Galvanized Steel Pipes (GSP) are dominant. This article presents a comprehensive analysis of these two pipe varieties, providing insights to assist in choosing the right type for one's unique requirements.
Understanding Ductile Iron Pipes
Ductile Iron Pipes (Ductile Iron Pipes (DIP)s) are predominantly utilized for water and wastewater conveyance. Their robustness against wear and tear makes them an optimal choice for numerous infrastructure initiatives. The high tensile strength of the ductile iron augments the pipe's durability, ensuring longevity even under harsh conditions.
These pipes exhibit high corrosion resistance, attributable to their substantial zinc content. Additionally, their low friction coefficient reduces hydraulic losses, thereby enhancing the flow rate capacity. Ductile Iron Pipes (DIP)s, being lighter than steel pipes, offer ease of installation, which translates into cost and time efficiency.
Delving into Galv
Product Parameters
| | |
| --- | --- |
| Standard | ISO2531, EN545, EN598, etc |
| Size | DN80~2600mm |
| Material | Ductile Cast Iron GGG50 |
| Pressure | PN10, PN16, PN25,PN40 |
| Length | 6m, cut to 5.7m |
| Application | Water supply project, drainage, sewage, irrigation, water pipeline. |
| Class | K9, K8, C25, C30, C40 |
| Certificate | ISO9001, BV, WRAS, BSI |
| Price terms | EXW, FOB, CFR, CIF, etc |
| Payment terms | T/T, LC at Sight, D/P, etc |
| Delivery time | Within 7 days upon receipt of deposit |
Ganized Iron Pipes
Galvanized Steel Pipes (Galvanized Steel Pipes (GSP)s), made from mild steel, undergo a galvanization process where they are coated with zinc. This provides them with improved corrosion resistance and extends their lifespan beyond traditional iron pipes.
Galvanized Steel Pipes (GSP)s possess higher strength compared to similar pipes, which makes them suitable for plumbing applications demanding structural integrity. They come in various dimensions and forms, suitable for both indoor and outdoor utilization. With proper upkeep, Galvanized Steel Pipes (GSP)s can serve up to 50 years before necessitating replacement. They blend functionality with aesthetics, offering superior performance.
Comparative Analysis of Ductile Iron and Galvanized Steel Pipes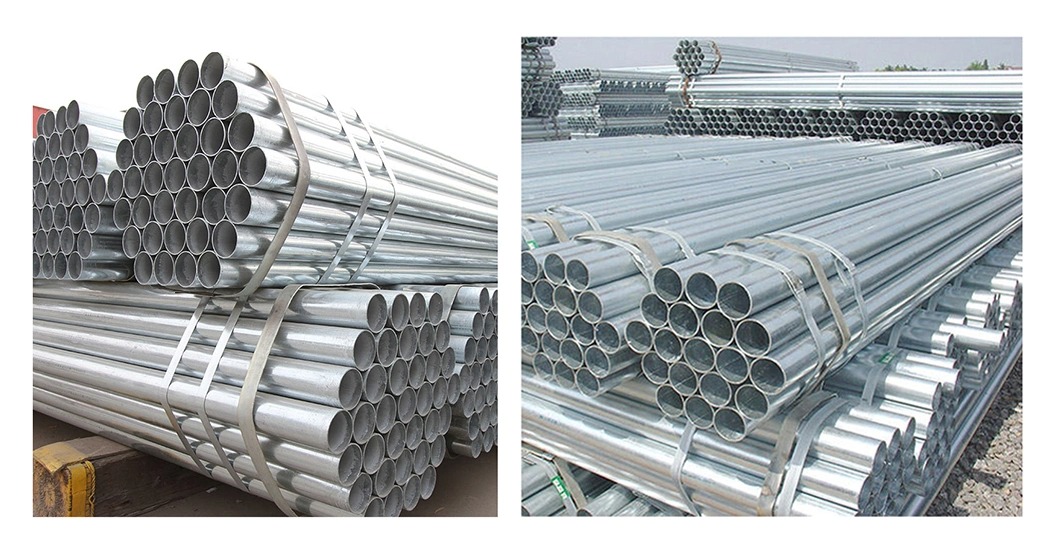 Product
Low Price Have Stock Hot Dip Galvanized Steel Pipe Prices Galvanized Pipes
Out diameter
10-600mm
10-600mm * 10-600mm
Thickness
0.5-30.0mm
Length
3-12m or as per customers' requirements
Material
Q195-Grade B, SS330, SPC, S185
Q215-Grade C, CS Type B, SS330, SPHC
Q235-Grade D, SS400, S235JR, S235JO, S235J2
Q345-SS500, ST52
Standard
GB/T13793-1992, GB/T14291-2006, GB/T3091-1993, GB/T3092-1993 BS1387/1985, ASTM A53/A36 etc.
Surface treatment
Galvanized or black
Zinc coating
Pre-galvanized steel pipe: 40-150g/m2
Hot dipped galvanized steel pipe:200-400g/m2
Material Composition
Ductile Iron Pipes (DIP)s consist of ductile iron, carbon, and silicon, which are melted together and cast into cylindrical forms. In contrast, Galvanized Steel Pipes (GSP)s are fabricated from steel and layered with zinc to inhibit rust and corrosion. Both pipes have corrosion resistance but achieve it differently. Ductile Iron Pipes (DIP) is often lined with cement mortar to protect the iron from the corrosive effect of water. GSP relies on the zinc coating for corrosion resistance, but if the coating is compromised, the steel can rust.
Strength and Durability
Ductile Iron Pipes (DIP)s are renowned for high tensile strength, providing resilience against external forces like heavy loads, vibrations, and impacts. Their resistance to corrosion and abrasion ensures longevity. Galvanized Steel Pipes (GSP)s, however, while strong, lack the ductility of the former, making them prone to cracking and rupturing under pressure.Durability Ductile Iron Pipes (DIP) is generally more durable and can handle higher pressures, making it suitable for main water lines. It has a lifespan of about 50-100 years. GSP, although durable, is more susceptible to corrosion if the zinc coating is compromised. It typically lasts about 40-60 years.
Installation and Maintenance
Ductile Iron Pipes (DIP) is heavier, requiring more labor or machinery for installation. GSP is lighter and easier to handle, but its joints must be carefully sealed to prevent leaks. Ductile Iron Pipes (DIP)s offer installation flexibility, with options including push-on flexible joints, mechanical joints, and flanged joints. They can be easily resized using common tools such as a saw. Galvanized Steel Pipes (GSP)s necessitate specialized tools and methods for installation, which may escalate time and cost. Moreover, Galvanized Steel Pipes (GSP)s require consistent maintenance to prevent rust and corrosion.
Environmental Impact
Production of both pipes has environmental impacts. Iron and steel production both require significant energy and produce CO2 emissions. However, galvanizing steel also produces hazardous waste that must be managed.
Cost Implication
Although Ductile Iron Pipes (DIP)s are comparatively pricier due to their superior strength, durability, and reliability, they are a long-term, cost-efficient choice. Their extended lifespan necessitates less maintenance and replacement. Galvanized Steel Pipes (GSP)s may be less expensive initially, but the potential for rust, corrosion, and reduced overall durability may increase long-term costs.
Applications
Ductile Iron Pipes (DIP)s are extensively used in water supply, sewage systems, and gas and oil transmission due to their durability, strength, and corrosion resistance. Galvanized Steel Pipes (GSP)s find utility in residential and commercial plumbing as well as outdoor piping systems.
Conclusion
The choice between Ductile Iron Pipes (DIP)s and Galvanized Steel Pipes (GSP)s largely hinges on their intended application. Generally, Ductile Iron Pipes (DIP)s provide superior value due to their strength, durability, and corrosion resistance. Regardless, it's crucial to opt for a high-quality system to ensure dependable and efficient water transportation. It is hoped that this comparative analysis will assist you in making an informed decision about your piping requirements.
For large diameter pipes and high-pressure applications, Ductile Iron Pipes (DIP) is often the preferred choice. For smaller diameter, low-pressure applications like domestic water service lines, GSP may be sufficient.
Each type of pipe has its advantages and disadvantages. The choice between Ductile Iron Pipes (DIP) and GSP for a particular application depends on a variety of factors including the pipe diameter, pressure requirements, soil conditions, local regulations, and budget.