Product Name: ASTM Electrical Resistance Weld (ERW) Black and Hot-dip Galvanized Steel Pipe
Standard: ASTM A53
Internatioanal Standard: ISO 9001
Size Range
Seamless Pipe 1/8" ~24", DN15~DN600
API Line pipe:1/8"-48" inch, DN6~DN1200
Welded pipe:1/2"-60"inch
Wall Thickness  :sch10, sch20, sch30, std, sch40, sch60, xs, sch80, sch100, sch120, sch140, sch160, xxs,
Product NOUN interpretation: Black Steel Pipe
Black steel pipe is different from galvanized pipe because it is uncoated. The dark color comes from the iron-oxide formed on its surface during manufacturing. The primary purpose of black steel pipe is to carry propane or natural gas into residential homes and commercial buildings. The pipe is manufactured without a seam, making it a better pipe to carry gas. The black steel pipe is also used for fire sprinkler systems because it is more fire-resistant than galvanized pipe.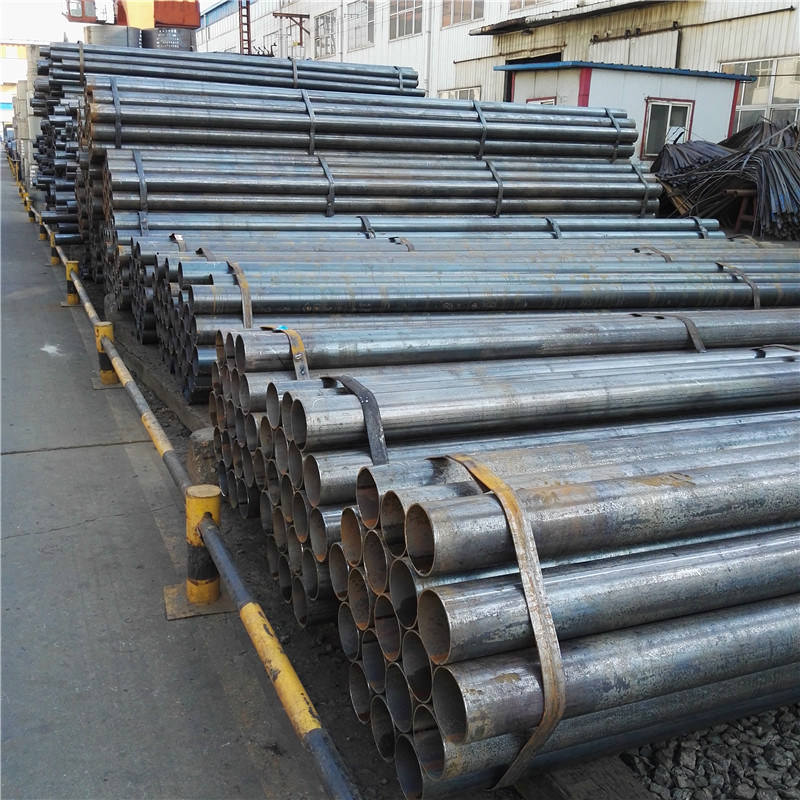 Black Lacquer Coat
The minimum wall thickness at any point shall not be more than 12.5% under the nominal wall thickness specified.
Permissible Variations in Outside Diameter NPS 11/2″ and under: ± 1/64" NPS 2″ and over: ± 1%
Permissible Variations Weight Per Foot – Pipe shall not vary more than ± 10% from the standard specified.
Galvanizing: The average weight of zinc coating shall be not less than 1.8 oz. per sq. ft. of surface (inside and outside) and not less than 1.6 oz. per sq ft. The dimensions and weights furnished under this specification are in agreement with the standardized dimensions and weights specified in ASME B 36.10.
Usage: Usage: Construction / building materials steel pipe,Scaffolding pipe,Fence post steel pipe,Fire protection steel pipe,Greenhouse steel pipe,Low pressure liquid, water, gas, oil, line pipe,Irrigation pipe,Handrail pipe。
Product NOUN interpretation: Galvanized Steel Pipe
Galvanized Steel pipe is covered with a zinc material to make the steel pipe more resistant to corrosion.The primary use of galvanized steel pipe is to carry water to homes and commercial buildings.The zinc also prevents the buildup of mineral deposits that can clog the water line. Galvanized pipe is commonly used as scaffolding frames because of its resistance to corrosion.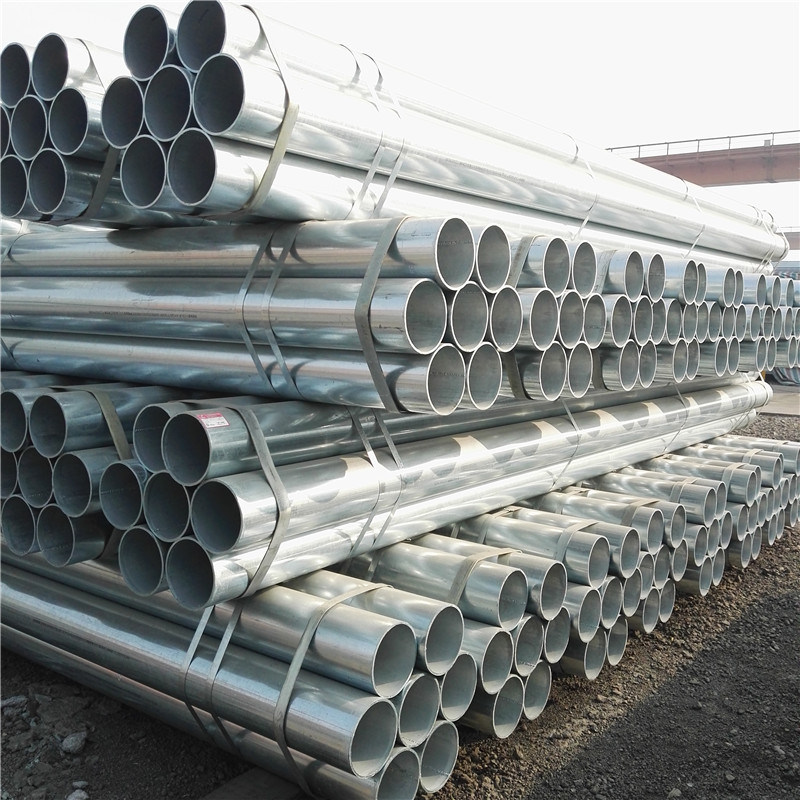 Standard: BS EN 39, BS 1387, Standard: BS EN 39, BS 1387, BS EN 10219,API 5L, ASTM A53, ASTM A500, ASTM A795, ISO65, ANSI C80,DIN2440, JIS G3444, GB/T3091 BS EN 10219ASTM A500, JIS G3466, GB/T6728 BS EN 10219ASTM A500, JIS G3466, GB/T6728
Chemical Analysis:
Chemical Composition
Type S
Type   E
Type F
(seamless)
(electric-resistance welded)
(furnace continuous buttwelded pipe)
Grade A
Grade B
Grade A
Grade B
Grade A
Carbon max. %
0.25
0.30
0.25
0.30
0.30
Manganese %
0.95
1.20
0.95
1.20
1.20
Phosphorous, max. %
0.05
0.05
0.05
0.05
0.05
Sulfur, max. %
0.045
0.045
0.045
0.045
0.045
Copper, max.%
0.40
0.40
0.40
0.40
0.40
Nickel, max. %
0.40
0.40
0.40
0.40
0.40
Chromium, max. %
0.40
0.40
0.40
0.40
0.40
Molybdenum, max. %
0.15
0.15
0.15
0.15
0.15
Vanadium, max. %
0.08
0.08
0.08
0.08
0.08
Mechanical Properties:
Mechanical Property
Seamless and Electric-resistance-welded
Continuous-Welded
Grade A
Grade B
Grade A
Tensile Strength, min., psi
48,000
60,000
45,000
Yield Strength, min., psi
30,000
35,000
25,000