ASTM A179 (ASME SA179) Pipe Description
Cold drawn seamless carbon steel tube for heat exchangers and condensers
Size (mm): O.D.:6.0~114.0; W.T.:1~15; L: max 12000
Description:
1. Standards: ASTM A179 (ASME SA179)
2. Applications: heat exchangers, condensers, heat transfer equipment and similar pipes.
3. Grade: A 179
4. Specifications: diameter 10.3 to 76.2 mm; thickness: 1.2 to 12 mm; length: 6 m and above; and, modified specifications according to customer requirements.
5. Chemical composition and mechanical properties.
DIN 17175 Alloy pipe Description
Standard: DIN 17175
We can supply various grades of seamless boiler pipes, such as St35.8, St45.8, 15Mo3, 13CrMo44, 10CrMo910, etc.
Size RangeThe size range of JST seamless steel boiler tube is as follows:
Outer dimension is from 6.0 mm to 219.0 mm.
Wall thickness of DIN 17175 seamless boiler pipe ranges from 1 mm to 30 mm.
The maximum length is 12 m.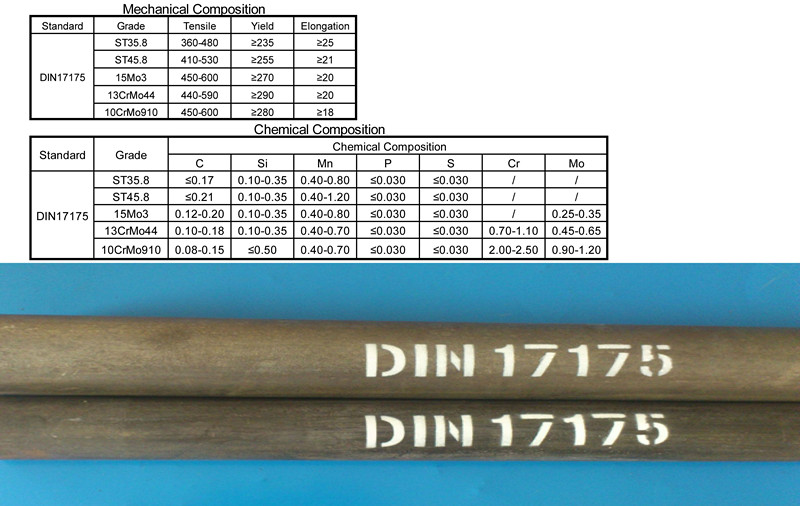 This seamless boiler pipe can also be used as heating surface pipe, economizer, superheater, reheater and petrochemical industrial pipe for high-pressure boilers (The working pressure is above hunting for.8 Mpa in general and the working temperature is between 450℃ to 650℃. ).
---
ASTM A179 (ASME SA179) Pipe Chemical Composition:
Chemical Composition
C
Mn
P≤
S≤
Si≤
0.06-0.18
0.27-0.63
0.035
0.035
0.25
DIN 17175 Alloy pipe Chemical Composition:
Grade

Chemical Composition (%)
C
Si
Mn
P
S
Ni
Cr
Mo
Others
St35.8
0.17Max
0.10~0.35
0.40~0.80
0.040Max
0.040Max
–
–
–
–
St45.8
0.21Max
0.10~0.35
0.40~1.20
0.040Max
0.040Max
–
–
–
–
17Mn4
0.14~0.20
0.20~0.40
0.90~1.20
0.040Max
0.040Max
–
0.30Max
–
–
19Mn5
0.17~0.22
0.30~0.60
1.00~1.30
0.040Max
0.040Max
–
0.30Max
–
–
15Mo3
0.12~0.20
0.10~0.35
0.40~0.80
0.035Max
0.035Max
–
–
0.25~0.35
–
13CrMo910
0.10~0.18
0.10~0.35
0.40~0.70
0.035Max
0.035Max
–
0.70~1.10
0.45~0.65
–
10CrMo910
0.08~0.15
0.50Max
0.40~0.70
0.035Max
0.035Max
–
2.00~2.50
0.90~1.20
–
14MoV63
0.10~0.18
0.10~0.35
0.40~0.70
0.035Max
0.035Max
–
0.30~0.60
0.50~0.70
V: 0.22~0.32
X20CrMoV121
0.17~0.23
0.50Max
0.40~0.70
0.030Max
0.030Max
0.30~0.80
10.00~12.50
0.80~1.20
V: 0.25~0.35
---
ASTM A179 (ASME SA179) Pipe Mechanical Property:
| | | | |
| --- | --- | --- | --- |
| Steel Grade | Yield Strength (Mpa) | Tensile Strength (Mpa) | Elongation (%) |
| ASTM A179 | ≥180 | ≥325 | ≥35 |
Mechanical Properties of Seamless DIN 17175Boiler Pipe: 
Grade

 

Tensile Test MPa or N/mm2

Remaks(Similar to JIS)

Possibility Temperature

Min Yield point

Tensile Strength

t 16Max
16<t 40Max

St35.8

1.0305

235

225

360~480

Impact Test at Room Temp.kgf-m

(STPT38)

 

St45.8

1.0405

–

245

410~530

23.5(STPT410, STB410)

 

17Mn4

1.0481

–

275

460~580

22.8

 

19Mn5

1.0482

–

315

510~610

23.5(STB52)

 

15Mo3

1.5415

275

275

450~600

23.5

 

13CrMo910

1.7335

295

295

440~590

23.2(STPA22, STBA22)

 

10CrMo910

1.7380

285

285

450~600

23.2(STPA24, STBA24)

 

14MoV63

1.7715

325

325

460~610

24.2

 

X20CrMoV121

1.4922

490

490

690~850

23.5

 
---
ASTM A179 Seamless Tube Dimensions:
OD (mm)
Wall Thickness (mm)
 
2
2.5
3
3.5
4
4.5
5
6
6.5-7
7.5-8
8.5-9
9.5-10
11
12
Φ25-Φ28
●
●
●
●
●
●
 
 
 
 
 
 
 
 
Φ32
 
●
●
●
●
●
●
 
 
 
 
 
 
 
Φ34-Φ36
 
●
●
●
●
●
●
 
 
 
 
 
 
 
Φ38
 
●
●
●
●
●
●
 
 
 
 
 
 
 
Φ40
 
 
●
●
●
●
●
 
 
 
 
 
 
 
Φ42
 
 
●
●
●
●
●
 
 
 
 
 
 
 
Φ45
 
 
●
●
●
●
●
●
 
 
 
 
 
 
Φ48-Φ60
 
 
●
●
●
●
●
●
●
 
 
 
 
 
Φ63.5
 
 
 
●
●
●
●
●
●
●
 
 
 
 
Φ68-Φ73
 
 
 
 
●
●
●
●
●
●
 
 
 
 
Φ76
 
 
 
 
●
●
●
●
●
●
●
●
●
●
Φ80
 
 
 
 
●
●
●
●
●
●
●
●
●
●
Φ83
 
 
 
 
●
●
●
●
●
●
●
●
●
●
Φ89
 
 
 
 
●
●
●
●
●
●
●
●
●
●
Φ95
 
 
 
 
●
●
●
●
●
●
●
●
●
●
Φ102
 
 
 
 
●
●
●
●
●
●
●
●
●
●
Φ108
 
 
 
 
●
●
●
●
●
●
●
●
●
●
Φ114
 
 
 
 
 
●
●
●
●
●
●
●
●
●
Φ121
 
 
 
 
 
●
●
●
●
●
●
●
●
●
Φ127
 
 
 
 
 
●
●
●
●
●
●
●
●
●
Φ133
 
 
 
 
 
●
●
●
●
●
●
●
●
●
Φ140
 
 
 
 
 
 
●
●
●
●
●
●
●
●
Φ146
 
 
 
 
 
 
●
●
●
●
●
●
●
●
Φ152
 
 
 
 
 
 
●
●
●
●
●
●
●
●
Φ159
 
 
 
 
 
 
●
●
●
●
●
●
●
●
Φ168
 
 
 
 
 
 
●
●
●
●
●
●
●
●
 SA-450/SA-450M:
| | | | | | |
| --- | --- | --- | --- | --- | --- |
| OD In (mm) | + | – | WT In (mm) | + | – |
| <1(25.4) | 0.10 | 0.10 | ≤1.1/2(38.1) | 20% | 0 |
| 1∼1.1/2(25.4∼38.1) | 0.15 | 0.15 | >1.1/2(38.1) | 22% | 0 |
| >1.1/2∼<2(38.1∼50.8) | 0.20 | 0.20 |   |   |   |
| 2∼<2.1/2(50.8∼63.5) | 0.25 | 0.25 |   |   |   |
| 2.1/2∼<3(63.5∼76.2) | 0.30 | 0.30 |   |   |   |
| 3∼4(76.2∼101.6) | 0.38 | 0.38 |   |   |   |
| >4∼7.1/2(101.6∼190.5) | 0.38 | 0.64 |   |   |   |
| >7.1/2∼9(190.5∼228.6) | 0.38 | 1.14 |   |   |   |