Schedule of Requirements
IFT NO. PD.2312/397-MECD/MEZ/PIPE.Materials: Line Pipe.
Item

No.

Description of Goods

Qnty

Unit

A.

Line Pipe.

As per detailed technical specifications at Section 7.

Size and quantity are as follows:

A.1

DN 20″ x WT 7.9 mm API 5L Grade B, ERW

450

Meter.

A.2

DN 16″ x WT 7.9 mm API 5L Grade B, ERW

5,600

Meter.
Technical Specifications
      IFT NO. PD.2312/397-MECD/MEZ/PIPE.
API 5L Grade-B ERW Line Pipe 20″DN (508.0 mm)×WT 7.9 mm
This Specification covers the manufacturer, acceptance and delivery of steel pipes with Electric Resistance Welded Longitudinal seam for gas line pipe. Said pipes shall be manufactured in accordance with the following listed in the order of precedence:
         (a)     This specification
         (b)     API 5L Spec. (Latest edition)
         (c)     ASME Guides for Transmission and Distribution Piping System (Latest edition)
MATERIAL:
Steel of Grade-B, PSL-1in accordance with API 5L shall be used. The steel shall be fully- killed, fine grained steel and shall comply with the following Heat Analysis requirements at maximum:
         C       = 0.26%
         Mn    = 1.20%
         P       = 0.030%
         S       = 0.030%
         Heat analysis shall be made and the results of the analysis shall be recorded in the inspection certificate.
METHOD OF MANUFACTURING:
         Electric Resistance Welding: Longitudinal welding without filler metal.
DELIVERY ALLOWANCE AND PIPE LENGT:
         The pipe shall not have any girth welds. The length of each batch of pipe shall be 12m±50mm.
         Delivery Allowance : +Nil, -(minus) 1%, Delivery Allowance and Pipe length beyond this shall not be acceptable.          
HYDROSTATIC TESTING:
         Each length of pipe shall be tested hydrostatically in accordance with API 5L Spec. PSL-1.
LONGITUDINAL WELD:
         The hardness of the longitudinal weld and the heat affected zone shall not exceed 250 HV 10. Complete penetration shall be warranted and NON-Destructive Inspection shall be carried as per API 5L Spec.
TOLERANCES:
         6.1    Diameter Tolerance
                  The tolerance for diameter of pipe body shall be +/- 3.2mm
                  The tolerance for diameter at Pipe Ends (within 100.0mm of the pipe end) shall be:
                  Plus Tolerance = 1.60mm, Minus Tolerance = 1.60mm.
         6.2    Thickness (Wall) Tolerance
                  Wall thickness tolerance shall be ±0.79mm.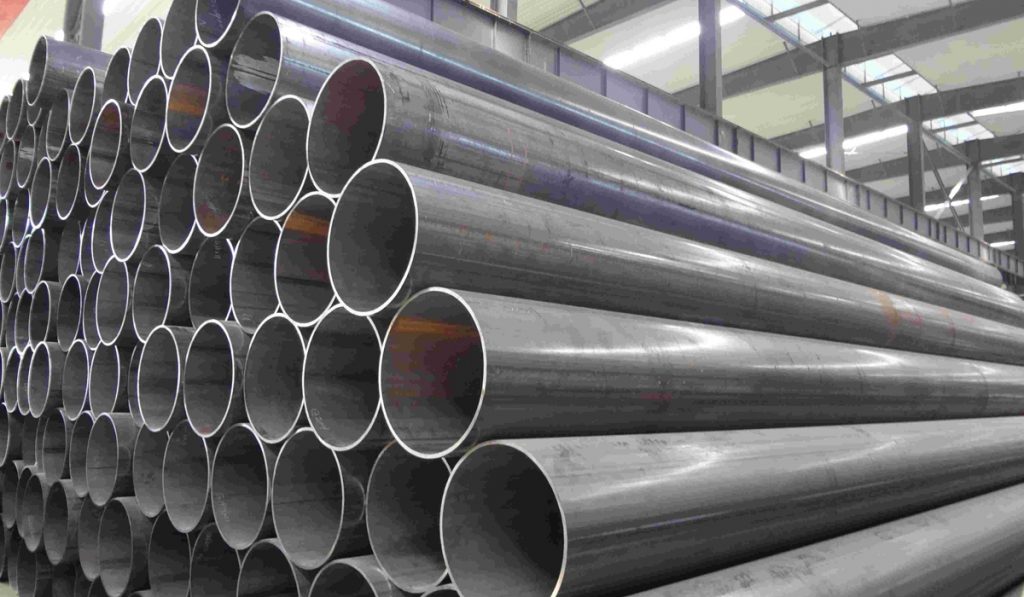 PREPARATION OF PIPE ENDS:
         Pipe shall be furnished with both the ends beveled to an angle of 30o, +5o, -0o, measured from line drawn perpendicular to the axis of the pipe and with a root of 1/16″ +/- 1/32″ (1.59 +/- 0.79mm). The bevel ends of each pipe shall be protected by suitable plastic bevel protectors.
         The internal weld bead of each pipe shall be ground flush with the parent material over a length of 150 mm from each end of pipe.
         The finished pipe ends shall be free of lamination and other defects Ends shall be checked for such defects by ultrasonic testing of 25mm from each end of each pipe.
COATING:
         The pipes shall be cleaned and be given a mill coating on external surface to protect it from rusting during transit/transportation.
         The individual pipe numbers shall be selected consecutively. In case of pipe manufactured by more than one Manufacture, the individual pipe number shall be on the basis of individual mill with a three letters abbreviation of the mill identifying the Manufacturer to be followed by pipe number starting with 1(one).
         Heat number shall be traceable by means of pipe number and vice versa. The pipe length (in meter with two decimals) shall be painted in white color on the surface of the each pipe at one end.
MARKING:
         The identification markings shall be in accordance with API. The following identification markings shall paint stencil on one end of each pipe length approximately 140mm from the pipe end:
         –        API Monogram;
         –        Manufacturer's mark;
         –        Material grade;
         –        Outside diameter times specified wall thickness;
         –        Pipe number;
         –        Process of manufacturing;
         –        Test pressure;
         –        Weight per meter;
         –        Country of origin;
         –        Contract Number
         –        Destination.
         The pipe length (in meter with two decimals) shall be painted in white color on the surface of each pipe at one end.
CERTIFICATE(S):
         The Manufacturer must have valid API Monogram Certificate of authority issued in favour the manufacturer to use API official Monogram and the accreditation by recognized authority to issue ISO 9001:2008/ BS 5750: Part-1  EN 29001/ EN 29002 must be submitted with the tender. Tender submitted without these certificate(s) shall be treated as technically non-responsive.
In addition to the warranty certificate required under clause-6 of the tender document, the supplier shall have to furnish the following special warranty certificate with the shipping document:
       "purchaser is to be reimbursed for direct replacement costs of any Pipe furnished that falls under field Hydrostatic Tests due to defect of materials, workmanship, or lack of compliance with all aspects of the specifications agreed upon. Such tests shall be applied at the time of construction of the pipeline and before the pipe line is placed in service. The test pressure shall not exceed the one with which the pipes are tested in mill(s) in accordance with the specifications agreed upon. These replacement costs shall include and be limited to Pipe, Labour & Equipment Rental for locating, cutting out and replacing defective Pipe. Suppliers/Manufacturer shall be responsible only for the failures which are proved to be attributable to his own responsibility and Supplier's/Manufacturer's liability shall be in any case not more than 5% of the contract amount. Supplier's/Manufacturer's liability shall be, in any case limited to the above and shall terminate after 12 months of delivery of the pipes at Chittagong Port or after 18 months of final shipment whichever date comes earlier".