Seamless high-temperature tubes and furnace tubes suitable for use in applications with temperatures above 500ºC (932ºF).
The ABTERSTEEL program of high-temperature tubes includes a wide range of austenitic stainless steels and nickel alloys as well as iron-chromium-aluminium (FeCrAl) alloys, which can be used at temperatures up to 1250ºC (2280ºF).
Steel Grade:
20G、20MnG、25 MnG、20 MOG、12CrMoG、15 CrMoG、14Cr1MoG、12 Cr2MoG、12Cr1MovG、1Cr5Mo、 1Cr9Mo1、 12Cr2MoWVTiB、 07Cr2MoW2vNbB、 15NiCuMoNb5、 10Cr9Mo1VNbN、 10Cr9MoW2vNBN、 1Cr18Ni9、 0Cr18Ni11Nb、 0Cr25Ni20、 00Cr17Ni14Mo2、 0Cr18Ni10Ti、 00Cr19Ni13Mo3、1Cr13、 2Cr13、 0Cr26Ni5Mo2、 00Cr25Ni7Mo4N、 00Cr22Ni5Mo3N、 00Cr23Ni4MoCuN.
---
Standard: ASTM A213/A335/A312、 EN10216-2、 GB9948、 GB6479、 GB531
---
Application :For high temperature and pressure boi ler and petrochem i caI,for example heating-ppel ines,pressure pipel ines, coal-saving devices, heat exchangers, superheaters and reheaters. (P》9. 8Mpa, T>450〇C)
---
SIZE:  OD: 60mm~508mm,W. T: 4mm~35mm..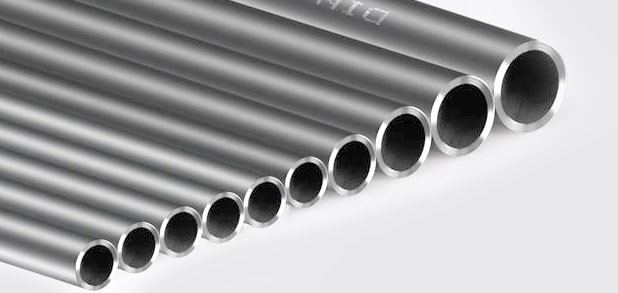 high-temperature pipes
Boiler tubes

Composite tubes

Ethylene furnace tubes

Finned tubes

Furnace tubes

Lance tubes

Muffle tubes

Radiant tubes

Recuperator tubes

Reheater tubes

Superheater tubes

Thermocouple tubes
Mechancal

Properties

Steel Grade

(Mpa) Tensi I e Strength

 ReL or RpO. 2 (Mpa)

 EIongation %

Absorbed Energy (KV2/J)

Longitudinal

Transverse

Longitudinal

Transverse

20G (A106A)

410-550

245

24

22

40

27

20MnG (A106B)

415-560

240

22

20

40

27

25 MnG (A106C)

485〜640

275

20

18

40

27

15 CrMoG(T12/P12)

440〜640

295

21

19

40

27

14Cr1MoG (T11/P11)

415-585

205

21

19

40

27

12 Cr2MoG(10 Cr2Mo910) (T22/P22)

450〜600

280

22

20

40

27

12Cr1MovG

470〜640

255

21

19

40

27

1 Cr5Mo(T5/P5)

415-585

25

22

2

40

27

1 Cr9Mo1 (TP/P9)

415-585

25

20

18

40

27

12 Cr2MoWVTiB(R102)

540-735

345

18

 

40

27

07 Cr2MoW2vNbB (T23/P23)

510

400

22

18

40

27

15NiCuMoNb5(WB36)

620〜780

440

19

17

40

27

10Cr9Mo1VNbNv (T91/P91)

585

415

20

16

40

27

10 Cr9MoW2Vnbn(T92/P92)

620

440

2

16

40

27

1Cr18Ni9(TP304H)

520

205

35

–

–

–

0Cr18Ni11Nb(TP347H)

520

205

35

–

–

–

0Cr25Ni20(TP310S/310H)

520

205

40

–

–

–

00Cr17Ni14Mo2(TP316L)

480

175

35

-*

–

–

0Cr18Ni10Ti (TP321H)

520

205

35

–

–

–

00Cr19Ni13Mo3(TP317L)

480

175

35

–

–

–

1Cr13(TP410/410S)

415

215

20

–

–

–

2Cr13(TP420)

415

240

20

–

–

–

0Cr26Ni5Mo2

590

390

18

–

–

–

00Cr25N i 7Mo4N(SAF2507)

800

550

15

–

–

–

00Cr22Ni5Mo3N(SAF2205)

620

450

25

–

–

–

00Cr23N i 4MoCuN(SAF2304)

690

450

25

–

–

–
(%) Chemical

Domposition, Mass Fract i on (%)

Steel Grade

c

Si

Mn

P

S

Cr

Mo

Ni

other

 

20G (A106A)

0.17-0.23

0.17-0.37

0.35-0.65

0.025

0.015

–

–

–

–

20MnG (A106B)

0.17-0.23

0.17-0.37

0.07-0.10

0.025

0.015

–

–

–

25 MnG(A106C)

0.22-0.27

0.17-0.37

0.07-0.10

0.025

0.015

–

–

–

–

15MoG(16Mo3)

0.12-0.20

0.17-0.37

0.40-0.80

0.025

0.015

–

0.25-0.35

–

–

20M〇G

0.15-0.25

0.17-0.37

0.40-0.80

0.025

0.015

–

0.44-0.65

–

–

12CrMoG

0.08-0.15

0.17〜0.37

0.40-0.70

0.025

0.015

0.40-0.70

0.40 〜0.65

–

15 CrMoG(T12/P12)

0.12-0.18

0.17 〜0.37

0.40-0.70

0.025

0.015

0.80 〜1.10

0.40-0.55

–

–

14Cr1MoG(T11/P11)

0.05-0.15

0.15-0.25

0.30-0.60

0.025

0.015

1.00-1.50

0.45〜0.65

–

–

12 Cr2MoG(10 Cr2Mo910) (T22/P22)

0.08-0.15

0.50

0.40-0.60

0.025

0.015

2.00 〜2.50

0.90-1.13

–

–

12Cr1MovG

0.08-0.15

0.08-0.15

0.40 〜0.70

0.025

0.010

0.90〜1.20

0.25-0.35

–

V0.15-0.30

1 Cr5Mo(T5/P5)

0.15

0.15

0.30-0.60

0.025

0.015

4.00-6.00

0.44-0.65

–

–

1 Cr9Mo1 (TP/P9)

0.15

0.15

0.30-0.60

0.025

0.015

8.00-10.00

0_90 〜1.10

–

–

12 Cr2MoWVTiB (R102)

0. 08-0.15

0.45-0.75

0.45 〜0.65

0.025

0.015

1.60 〜2.10

0.05 〜0.65

–

V0. 28〜0. 42 Ti 0.08-0.18 B0. 002-0. 008 W0. 30-0. 55

07 Cr2MoW2vNbB(T23/P23)

0. 04-0.10

0.50

0_10 〜0.60

0.025

0.10

1.90-2.60

0.05 〜0.30

V0. 20〜0. 30 B0. 05-0. 006 W1.45-1.75 NO. 030 NbO. 02〜0. 08 A10.030

15NiCuMoNb5

(WB36)

0. 17

0. 25-0.50

0.80-1.20

0.025

0.015

–

0.25-0.50

1.00-1.30

NO. 020

Nb0.015~0.045 A10.050

10Cr9Mo1VNbNv(T91/P91)

0. 08-0.12

0. 20〜0.50

0.30 〜0.60

0.020

0.010

8.00 〜9.50

0.85-1.05

0.040

V0.18-0.25 N0.030〜0.070 NbO. 015-0. 045 A10.040

10 Cr9MoW2Vnbn(T92/P92)

0. 07-0.13

0. 05

0.30 〜0.60

0.020

0.010

8.50-9.50

0.30-1.05

0.040

V0. 15-0.25 N0.030~0.070 Nb0.04 〜0.09 B0.001~0.006 W1.50-2.00 A10.020

1Cr18Ni9(TP304H)

0.15

0.15

2.00

0.035

0.030

17.0-19.0

–

8.0 〜11.0

–

0Cr18Ni11Nb(TP347H)

0.08

0.08

2.00

0.035

0.030

18.0 〜20.0

–

8.0 〜11.0

–

0Cr25Ni20(TP310S/310H)

0.08

0.08

2.00

0.035

0.030

24.0 〜26.0

0.75

19.0-22.0

–

00Cr17Ni14Mo2(TP316L)

0.030

0.030

2.00

0.035

0.030

16.0-18.0

2.00 〜3.00

10.0-15.0

–

0Cr18Ni10Ti (TP321H)

0.08

0.08

2.00

0.035

0.030

17.0-20.0

–

9.0 〜13.0

Ti>5C%

00Cr19Ni13Mo3(TP317L)

0.030

0.030

2.00

0.035

0.030

18.0-2.0.

3.00-4.00

11.0 〜15.0

–

1Cr13 (TP410/410S)

015

015

1.00

0.035

0.030

11.5-13.5

–

–

–

2Cr13(TP420)

0.16 〜0.25

0.16 〜0.2C

1.00

0.035

0.030

12.0O-14.0C

–

–

0Cr26Ni5Mo2

0.08

0.08

1.50

0.035

0.030

13.0 〜28.0

1.00 〜3.00

3.0-6.0

–

00Cr25Ni7Mo4N(SAF2507)

0.030

0.030

1.20

0.035

0.020

24.0-26.0

3.00 〜5.00

6.0-8.0

N0.24 〜0.32

00Cr22Ni5Mo3N(SAF2205)

0.030

0.030

2.00

0.030

0.020

21.0 〜23.0

2.50 〜3.50

4.50-6.50

NO.08 〜0.20

00Cr23Ni4MoCuN(SAF2304)

0.030

0.030

2.50

0.030

0.020

21.5-24.5

0.05-0.60

3.0-5.50

N.30〜5.50 CuO. 05-0. 60