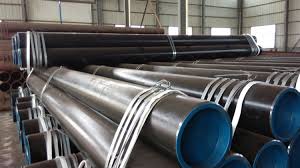 ASTM A53 steel pipe, OD 219.1mm SCH 40,SRL,DRL tubing
January 27, 2017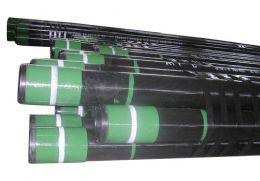 OCTG / API-CASING PIPE and API 5CT TUBING
February 7, 2017
ASTM A106 pipe (also covered in ASME specifications as S/A 106) is the standard specification for seamless carbon steel pipe for high-temperature service. Most common uses are in refineries and plants when gasses or fluids are transported at high temperatures and pressures.
Process
Killed steel, with primary melting process being open-hearth, basic-oxygen, or electric-furnace, possibly combined with separate degassing or refining.
Steel cast in ingots or strand cast is permissible.
Hot-finished pipe need not be heat treated.
Cold-drawn pipe shall be heat treated after the final cold draw pass.
ASTM A106 SCH40 Seamless Steel Pipes(OD,WT,WEIGHT PER METER)
ASTM A106 SCH40 Seamless Carbon Steel Pipes
N
Size
Descripition
KGS/MTR
OD
WT
Inch
mm
sch
mm
ABT
1
 1/2
21.3
sch40
2.77
Cold Drawn
1.266
2
 3/4
26.7
sch40
2.87
Cold Drawn
1.687
3
1
33.4
sch40
3.38
Cold Drawn
2.502
4
1 1/4
42.2
sch40
3.56
Hot Rolled
3.392
5
1 1/2
48.3
sch40
3.68
Hot Rolled
4.049
6
2
60.3
sch40
3.91
Hot Rolled
5.437
7
2 1/2
73
sch40
5.16
Hot Rolled
8.632
8
3
88.9
sch40
5.49
Hot Rolled
11.292
ASTM A106 SCH40 Seamless Carbon Steel Pipes
N
Size
Descripition
KGS/MTR
OD
WT
Inch
mm
sch
mm
ABT
1
8
219.1
sch40
8.18
Hot Rolled
42.547
2
10
273
sch40
9.27
Hot Rolled
60.288
3
12
323.8
sch40
10.31
Hot Rolled
79.703
4
14
355.6
sch40
11.13
Hot Rolled
94.545
5
16
406.4
sch40
12.7
Hot Rolled
123.3
6
20
508
sch40
15.09
Hot Rolled
183.421
7
24
609.6
sch40
17.48
Hot Rolled
255.237